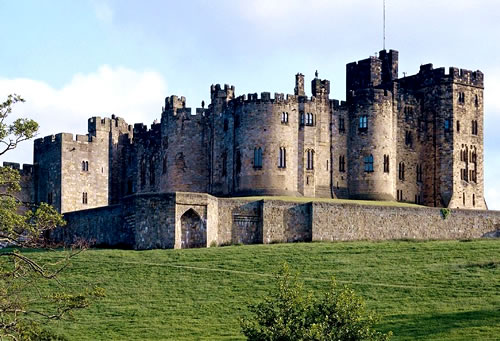 If you're lucky enough to be House Sitting in the North East of England, Alnwick Castle is a great place for a day out.   Set in the Northumberland countryside, first glimpses may appear foreboding but, as one of Europe's largest inhabited castles and home to the Duke of Northumberland for the last 700 years, it's still very much a living castle.  It's most certainly a castle which is full of surprises.  Behind its fearsome stone walls lie lavish State Rooms for you to explore filled with an awe inspiring collection of art and furniture belonging to the Percy family.
Today it's more than just a private family home and visitor attraction; it's also the centre of a large business enterprise which includes property management and development, leisure, heritage and tourism together with farming, forestry and minerals.
Learn about its history
To learn all about the history of this magnificent castle join in one of the popular guided tours where knowledgeable guides will tell you about its origins, not to mention stories of the fascinating people who have lived there over the past 900 years.   Find out how this fantastic example of a medieval castle has been the setting for many films, including Mary Queen of Scots, Ivanhoe and the infamous Harry Potter series. You'll also be treated to one of the very best private art collections in the country which has been acquired over the centuries from all around the world, including six Canaletto landscapes and three paintings by Titian, not to mention paintings by British artists such as Turner and Dobson
Always looking to improve and add to the attractions, this year there's a new feature to explore where you're invited to descend into the darkness beneath the Castle and discover the Lost Cellars. Kept locked and undisturbed for years, the cellars are now home to the latest audio-visual technology which tells the story of castle in a truly atmospheric setting.  And if exploring a whole castle isn't enough, check out Knight's Quest where your children can experience what it was like to be a real Knight or Lady.  They'll be able to dress up in medieval clothes, learn the art of swordmanship or even try their hand at jousting.
Beautiful gardens and lots of places to eat
Once outside the castle stroll around the extensive walls and terraces to give you an appreciation of its wonderful setting.  Take in the fantastic views over the countryside and its two parks.  To the north is a small park straddling the River which was landscaped by Capability Brown in the 18th Century, whilst nearby is the large Hulne Park containing the remains of Hulne Priory.
And when you get hungry there's no shortage of places to eat, brightly coloured pavilion tents in the Medieval Courtyard offer a mouth watering selection of both savoury and sweet foods, from succulent hog roasts to fresh sugary doughnuts, whilst the newly re-furbished Hotspur Restaurant offers delicious meals featuring locally sourced ingredients.
If you want to sample a little of Britain's history then Alnwick Castle is a great way to spend a day, especially if you find yourself House Sitting in Northumberland or in the North East of England.