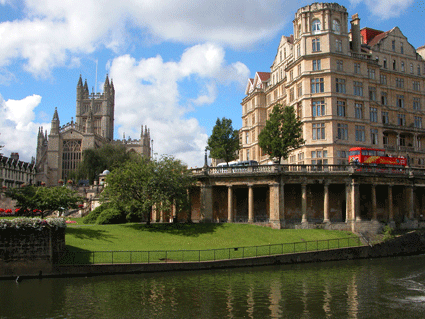 In the county of Somerset, south western England is the beautiful city of Bath. A world heritage site since 1987, the city of Bath is rich in history, culture and architecture. Originally named Aquae Sulis (the waters of Sulis) by the Romans, Bath has for a long time been famous as a spa town and is very popular with tourists, students and locals today.
If you are house sitting in the bath area, why not go along and see what this Unesco listed town has to offer? All of the usual modern day amenities can be found, universities, bars, theatres and arts, which compliment nicely the Georgian architecture, beautiful parks, open spaces and cultural wonders that Bath has in abundance.
Getting to and around Bath is easy, public transport is available although the city has been trying to reduce the amount of cars entering the centre of Bath. Park and Ride schemes operate regularly and are well signposted. The city is connected to the sea and Bristol by the River Avon, which is popular with many small and narrow boat users and has a number of locks and canals. There are many hotels and guest houses in Bath for visitors wanting to stay longer than a day.
Bath appeals to many people because there is so much to do and see. Popular with visitors are the Roman Baths, where geothermally heated water from the Mendip Hills bubbles to the surface through cracks in the limestone rock and emerges as hot springs. Today visitors cannot go into the water but can learn about the Roman Baths, see the site and visit the museum and pump house.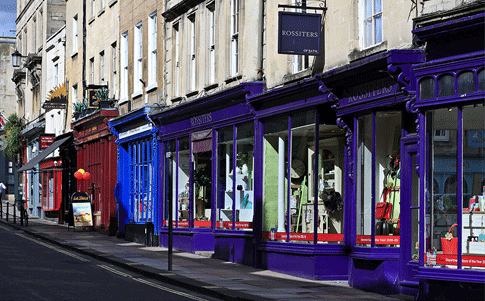 People also visit the city to take advantage of its fine boutiques offering a wide variety for the serious shopper. Over 400 retail shops are situated in Bath, along with a multitude of different restaurants offering delicious food from all around the world. Why not try a Sally Lunn Bun? First mentioned in 1772 they have been a popular part of the local diet for a long time. Similar to a teacake, they can be eaten as both a sweet or savoury treat.
The Royal Victoria Park is a short walk from the city centre, opened in 1830 by a young Princess named Victoria, who later went on to be Queen of England. The park now has tennis courts, a bowling green, a modern skate park and 2 golf courses. Many traditional English sports are played across the city, including cricket, football, croquet and rugby. Encompassing 57 acres, this glorious park is certainly a sight to see and also is the home to many open air concerts and other activities during the warmer months. The park is overlooked by the Royal Crescent, built between 1767 and 1774 and one of the finest examples of Georgian architecture found in the UK.
Bath is a truly amazing city to visit, whether you are just hoping for a day out or have plans to stay a little longer. Take in the atmosphere, cultural and historical beauty and enjoy a scenic visit to this beautiful city.